BrieflyAbout us
The main profile of the company is the production of aluminum sheet and profile as well as steel sheet processing from the raw material to the painted, assembled and finished product, machine parts as well as, roof and floor doors.
Details
Please check out ourServices
Development
We undertake feasibility studies and design studies of drawings already designed and issued for production. If production is carried out in cooperation with our customers, we do our utmost to reduce the customer's prices by continuously improving the product.
Manufacturing
Standard, custom, and fire-resistant roof doors, floor doors, wall doors, ceiling doors, and accessories in aluminium, steel, and stainless steel. Construction Scaffolding for staircases made of extruded aluminium profiles.
Surface treatment
Anodising is basically a surface treatment process for aluminium components, profiles and sheets. Our anodising line is the 2nd largest in Hungary.
Contact us!Contact
Stal-West Zrt.
6041 Kerekegyháza
Dózsa György út 1.
Intermediary Organizations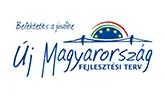 Magyar Gazdaságfejlesztési Köpont Zrt.
1539 Budapest, Postafiók 684. Tel: 40/200-617
www.magzrt.hu, info@magzrt.hu
Nemzeti Fejlesztési Ügynökség
www.ujszechenyiterv.gov.hu